When using a colour MFP the driver when set to Black and White can sometimes still print text in grey scale. A typical example would be an email that has text links in blue printing in a very light grey.
There is an option from within the print driver to make all text Black and therefore the text becomes easily readable.
The below guide will walk you through how to set this as a default.
Open Devices and Printers and right click the SHARP printer driver. From the menu choose, Printer Properties.
If you want to make this feature a default across all applications, choose Advanced, then Printing Defaults.
From the next window, choose Color and then you'll see a tick box with Text to Black, check this and click Apply and ok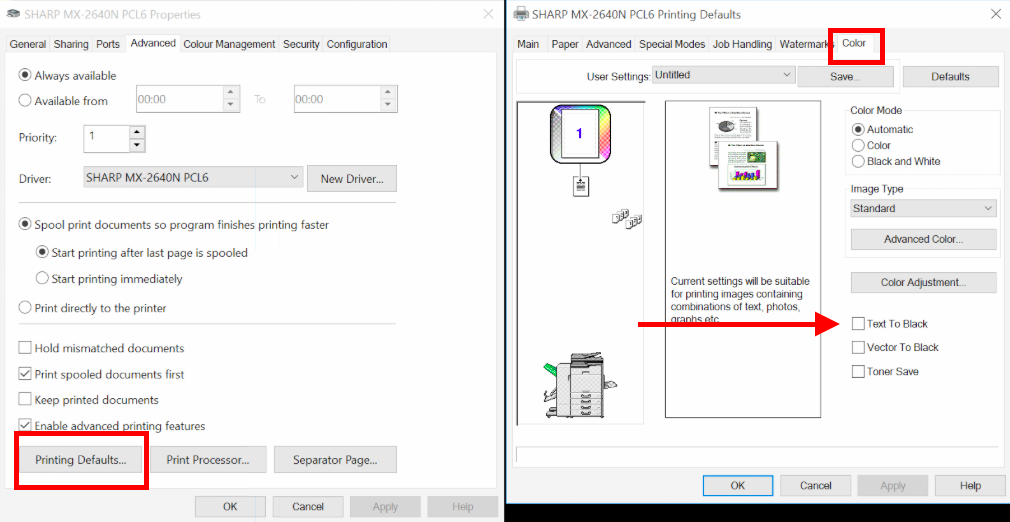 You may wish to also check your Printing Preferences as this will be needed to be the same as your defaults. Please see below.
Under the General tab of the driver choose Preferences and then click on the Color Tab, and like the previous, choose Text to Black, please click Apply and Ok to finish.
Still having issues with the colour? then perhaps we can assist with a remote support session, please call 01892 664999 to arrange a dial in.